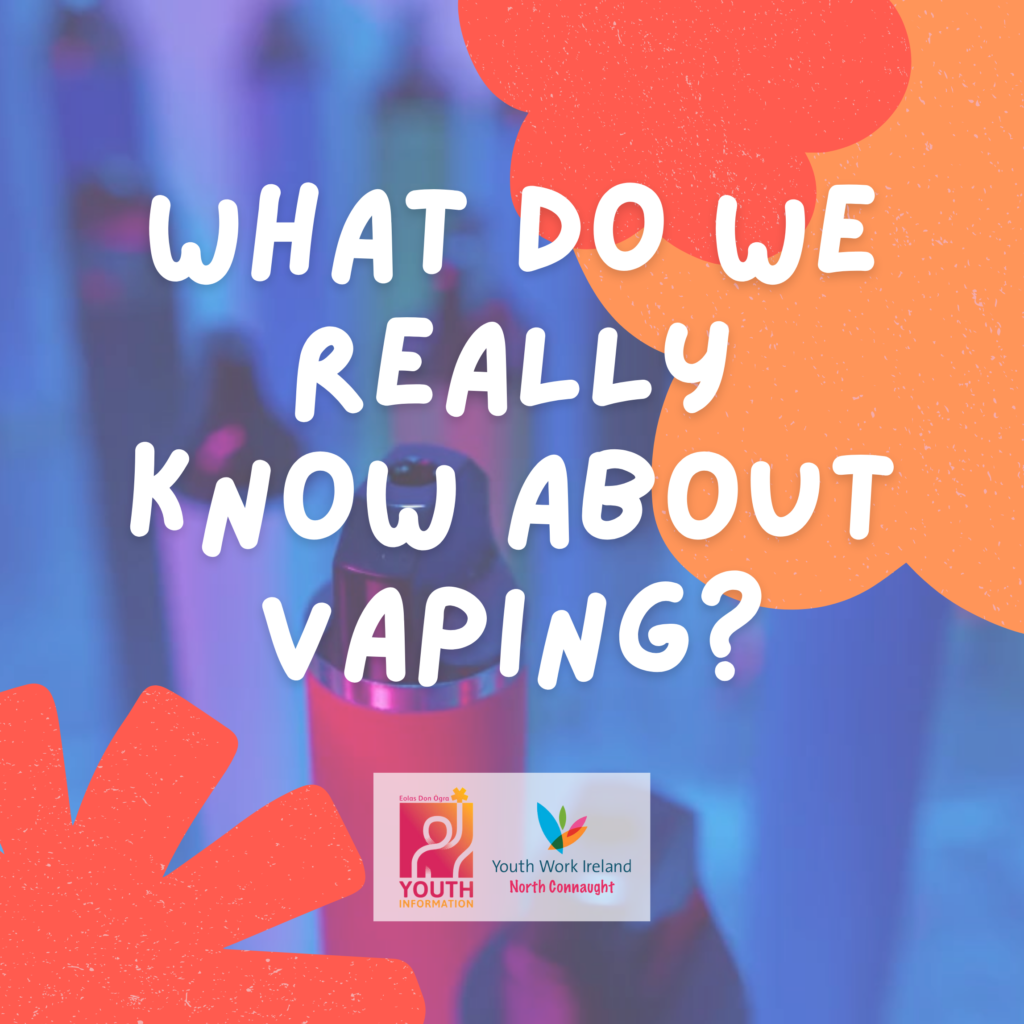 What Do We Really Know About Vaping?
The use of e-cigarettes, more commonly known as 'vaping', has become increasingly popular, particularly among young people, in the last number of years.  According to statistics, about 1 in 5 young people say they vape but this figure may be even more now.
What is vaping?
Vaping is an electronic version of smoking cigarettes, where vapour instead of smoke is inhaled from an e-cigarette. E-cigarettes are battery-powered devices that heat nicotine mixed with flavourings and other chemicals to create an aerosol that the user inhales. Vaping delivers nicotine without many of the toxins in cigarettes. Compared to cigarettes, vaping may be less harmful. But vaping is not harm-free.
The risks of vaping
Most vaping liquids contain nicotine. The amount of nicotine you inhale from a vape can vary. Some vape product labels do not show that they contain nicotine. Some vape liquids sold as 0% nicotine have been found to contain nicotine. The younger a person tries nicotine the greater the negative effects can be. As a young person the brain is more vulnerable to the effects of addictive substances. Children and young people in particular are more at risk of:
developing an addiction to nicotine
the negative effects of nicotine use on the developing brain – for example, problems with attention, learning, mood and impulse control
The risks and negative health effects linked with vaping include:
nicotine dependence
injuries – for example, from defective e-cigarette batteries
poisoning and exposure to toxins
changes to how your heart, lungs and other organs normally work
Over time these risks may cause diseases such as heart disease, lung disease and cancer. Vaping liquid that does not contain nicotine often has other chemicals such as colours and flavourings, which can be harmful when inhaled into the lungs.
Is vaping addictive?
The liquid in e-cigarettes contains nicotine which is a highly addictive chemical. When a person vapes, they inhale nicotine into their lungs and from there it is released into the blood and up to the brain. Nicotine triggers the release of the chemical dopamine in the brain. Dopamine is most notably involved in helping us feel pleasure as part of the brain's reward system. Because of this the brain quickly begins to associate nicotine with feeling 'good' or 'rewarded' and, like with most addictive substances, the brain starts to crave more nicotine to produce the same effect.
Can vaping help me quit smoking?
Many young people who vape did not smoke cigarettes before they started vaping. But young people who vape are more likely to start smoking cigarettes than those who never vape. Vaping is not recommended as a way to help quit smoking. If you are vaping as a way to help you quit smoking, you can work with a stop smoking advisor. They can give you free advice and support to quit smoking for good.
Help and advice to QUIT smoking
There are many ways to try to quit smoking. You may need to try a few different things to find what is right for you. Below are some options to explore if you want to give up smoking today.
Visit QUIT.ie for tips on quitting smoking and to sign up for an online quit plan
Find QUIT on Facebook for tips and support from other quitters
Call the Freephone Quitline to speak to someone who understands and can help you quit on Freephone 1800 201 203
Talk to your GP or Pharmacist
Read more about quitting smoking, the health effects of smoking and more on SpunOut.ie/QUIT
What we do know
Vaping is not harm-free. We are still learning about the long-term risks of vaping. This is because e-cigarettes are relatively new compared to cigarettes. The safest option is to avoid smoking or vaping completely.
If you have any questions about vaping, e-cigarettes or smoking in general, you can also chat online to a trained Youth Information Officer or contact us on yicsligo.ncycs@gmail.com or 085 8041020 (WhatsApp) and we can get back to you.
Feel free to watch our video below on Vaping