Support for Young LGBT People in Sligo/Leitrim
Aged 14-18
What is SMILY and who is it for?
SMILY is a youth group in Sligo and Leitrim for young people aged between 14-18 years who identify as Lesbian, Gay, bisexual, Transgender (LGBT) or who are questioning their identity. SMILY aims to provide a safe and fun environment, where young LGBT people can be who they are or want to be, can socialise with like-minded people, in an accepting space, developing friendships, gaining knowledge through training , to become better equipped to challenge the inequalities faced by LGBT+ young people, to be a possible bringer of change to their own lives and the lives of others.
---
What are the benefits of SMILY?
Some benefits of SMILY include
An opportunity for self-expression
Peer support and one to one support
Connecting with other young people who may be experiencing similar challenges
Young people have sense of belonging and pride in who they are
Make new friends
Improved coping skills, communication skills and increased self-confidence
Support with the "Coming Out" process.
---
Our Values:
Giving LGBT young people a voice and action in leadership.
Empowering young people for positive change in society
Building stronger LGBT and Ally communities.
Celebrating and recognising diversity.
---
Benefits for parents and families:
Relationships are restored and strengthened.
Communication improved
Coping mechanisms improved.
Parents are supported to support their young people.
Confidence to address homophobia.
Realisation and appreciation that their child has not changed.
---
SMILY Supports:
LGBT Awareness workshops
One to one Support
SMILY Youth Group
Teacher guidance and advice around SPHE moduals
Parent Suport
---
Accessing SMILY:
Parents and professionals working with young people can contact the number below to find out about our referral pathways.
SMILY meets once a week for 2 hours if you are interested in attending please feel free to get in touch.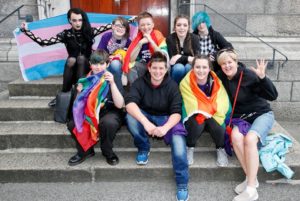 ---
Want to know more contact us
Email: smilyyouthlgbt@gmail.com
Mobile: 089 482 0330
Facebook: https://www.facebook.com/smilysligo