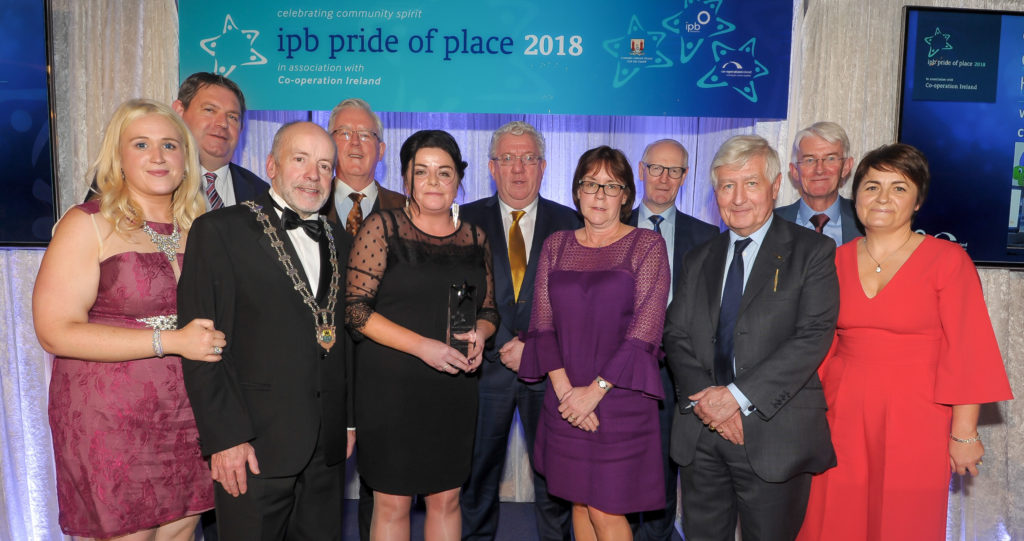 Leitrim Group Wins Pride of Place Award
Comhairle na nÓg Liatroma was honoured at the annual IPB Pride of Place awards held in Cork City Hall on Saturday evening (November 17).
The group took first place in the Community Wellbeing Initiative – Holistic category.
The judges said: "This entry concerns a promotional campaign in conjunction with the local County Council. It was launched and promoted tirelessly by the group behind it. What has been achieved is an outstanding piece of work, which is not time bound and has been supported by numerous agencies and public representatives.
"It features a high-quality video production entitled Use your Brains not your Fists which highlights the consequences of a fatal assault, not only on the victim and his family but also on the perpetrator. It should and will make a lasting impact on a national scale."
Comhairle na Nóg Liatrioma in conjunction with Leitrim County Council,  Youth Work Ireland North Connaught, and the Dolan and Grogan family are campaigning tirelessly to ensure this video is seen by all young people across Ireland and are hoping to get it on to the National Curriculum and out to all Sporting Organisations.
Those nominated joined with 800 community heroes from across the country at the awards which are operated in association with peace building charity Co-operation Ireland.
The Pride of Place awards, described as the 'Oscars of the Community Sector', celebrates the often unsung work of community groups that selflessly work to make local neighbourhoods a better place to live in, work in or visit.
Organised by Co-operation Ireland and sponsored by IPB Insurance, the Pride of Place awards sees the country's local authorities, on both sides of the border, nominate outstanding projects that contribute to civic pride.
Pat Forde Regional Director Youth Work Ireland North Connaught congratulated all involved in this most deserving project,"highlighting the benefits of Partnership with young people in addressing serious issues in Irish society."