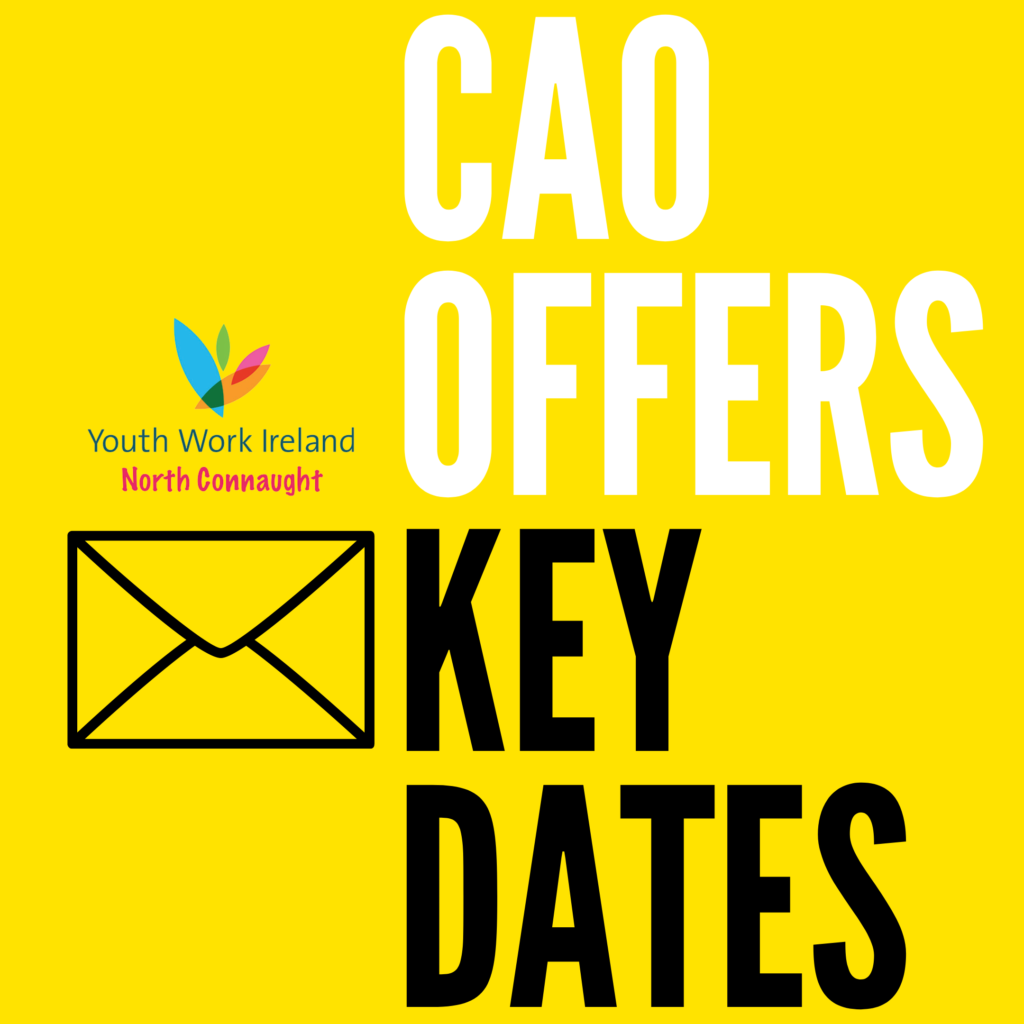 CAO 2023 – Key Info and Dates
CAO Round 1 offers will be released tomorrow Wednesday August 30th 2023

at 2pm.
Round 1 offers will also issued by email and text from 1pm. Applicants who have not received an offer will receive a `Statement of Application` email.
The Round 1 offer will contain the highest choice, that the applicant has achieved the required number of points, minimum entry requirements and any specific subject requirements from their 1-10 CAO application lists. College applicants may receive two offers:
A Level 8 Honours Bachelor Degree offer (the highest undergraduate level)
A Level 6 & 7 offer
Accepting an offer of a Level 6/7 will have no effect on your Level 8 list e.g. you can accept your first choice for a Level 7 course, and still get your first option for Level 8 offered in Round two, if the points were to drop.
Further rounds of offers continue until all course places are filled.
Round Two Offer Date: 11th September, 2023 from 2pm.
Round Three Offer Date: 19th September, 2023 from 10am.
Round Four Offer Date: 26th September, 2023 from 10am.
Round Five Offer Date: 3rd October, 2023 from 10am.
A full list of the CAO offer round dates and reply dates can be found here. The new CAO points will be available here using the CareersPortal.ie PointsFinder tool from September 8th.
Applicants have until 5th September 2023 at 3.00pm to accept Round 1 offers.
Accessing your CAO account
All CAO offer related messaging and interactions will take place within your online CAO account. Make sure you have your login details to hand and please ensure to login early on the day to avoid access issues because of high traffic on the CAO website. For anyone who has forgotten their CAO account login details you can request help with this here.
NOTE:
You will find your CAO Application Number on any e-mail or statement that you receive from CAO.

If you cannot find your CAO Application Number you may phone 091-509800 and ask for your CAO Application Number (from outside Ireland dial +353-91-509800).
Accepting an offer
If you receive an offer and you choose to accept this offer, you must do so online by the reply date indicated on the Offer email. If you receive an offer from both lists you must choose between them – you can only accept one offer, in any one round, from either the Level 8 or the Level 7/6 list.
Accepting a lower preference course in an earlier Offer Round will not stop you from receiving an offer in the next round for a course higher up on your course choices list. Should a place become available in a later round, and you are entitled to this place, you may receive an offer which you can choose to accept or ignore. Accepting the new offer will automatically cancel the previous acceptance. If you accept your offer online you will receive an acknowledgement email, and you can check that your acceptance has been recorded online at www.cao.ie via the My Application facility.
Available Places
The Available Places facility provides an option for new applicants to enter the CAO system for the first time, as well as providing an opportunity for those who have already applied to be considered for other courses. If you are applying for the CAO for the first time through Available Places, there is a fee of €45. There is no charge for existing CAO applicants.
For more information on this facility, check out this page from the CAO website. The CAO also have a video on Available Places, check it out below:
If you wish to talk to someone about your CAO offers, you can chat online to a trained Youth Information Officer or contact us on yicsligo.ncycs@gmail.com or 085 8041020 (WhatsApp) and we can get back to you.